I have a holiday coming up and for most people that would mean sunbathing, sleeping and eating but for me it's all about powering through my ever growing list of books to-read on Goodreads! I thought I would go through the ones I have chosen and why,

Never Let Me Go - Kazou Ishiguro

My English teacher recommended this to me and I managed to come across it in a charity shop for £3 which practically forced me to buy it. It seems like quite a gripping read and something you would finish feeling as if you've learnt something about life (high expectations).

The blurb:

As a child, Kathy – now thirty-one years old – lived at Hailsham, a private school in the scenic English countryside where the children were sheltered from the outside world, brought up to believe that they were special and that their well-being was crucial not only for themselves but for the society they would eventually enter. Kathy had long ago put this idyllic past behind her, but when two of her Hailsham friends come back into her life, she stops resisting the pull of memory.

And so, as her friendship with Ruth is rekindled, and as the feelings that long ago fueled her adolescent crush on Tommy begin to deepen into love, Kathy recalls their years at Hailsham. She describes happy scenes of boys and girls growing up together, unperturbed – even comforted – by their isolation. But she describes other scenes as well: of discord and misunderstanding that hint at a dark secret behind Hailsham's nurturing facade. With the dawning clarity of hindsight, the three friends are compelled to face the truth about their childhood–and about their lives now.



Memoirs of a Geisha - Arthur Golden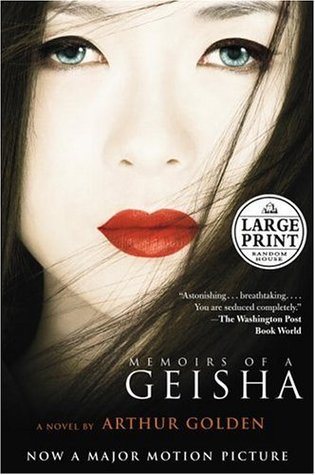 This is one of those books that you have to read, I am really interested to find out more about Japanese Culture through this. Feminism is a subject that is widely discussed at the moment and this seems like an important perspective of this struggle.

The blurb:

Speaking to us with the wisdom of age and in a voice at once haunting and startlingly immediate, Nitta Sayuri tells the story of her life as a geisha. It begins in a poor fishing village in 1929, when, as a nine-year-old girl with unusual blue-gray eyes, she is taken from her home and sold into slavery to a renowned geisha house. We witness her transformation as she learns the rigorous arts of the geisha: dance and music; wearing kimono, elaborate makeup, and hair; pouring sake to reveal just a touch of inner wrist; competing with a jealous rival for men's solicitude and the money that goes with it.
In Memoirs of a Geisha, we enter a world where appearances are paramount; where a girl's virginity is auctioned to the highest bidder; where women are trained to beguile the most powerful men; and where love is scorned as illusion. It is a unique and triumphant work of fiction—at once romantic, erotic, suspenseful—and completely unforgettable.

If I Stay - Gayle Forman


I know the film just came out and I know I've missed the hype but I was too scared to see it because everyone said it made them cry so I thought I would read it first then watch the film in the privacy of my own home. I'm really excited for this because the reviews have been amaaazing.

The blurb:

Just listen, Adam says with a voice that sounds like shrapnel.

I open my eyes wide now.
I sit up as much as I can.
And I listen.

Stay, he says.
Choices. Seventeen-year-old Mia is faced with some tough ones: Stay true to her first love—music—even if it means losing her boyfriend and leaving her family and friends behind?

Then one February morning Mia goes for a drive with her family, and in an instant, everything changes. Suddenly, all the choices are gone, except one. And it's the only one that matters.

If I Stay is a heart achingly beautiful book about the power of love, the true meaning of family, and the choices we all make.


I will aim to read all of these and then give you my thoughts after my holiday! Yay I can't wait! Comment what you thought of these books and if you have any more recommendations for me.